Your browser does not support HTML5 video.
Campaign message
-The community of Coeur d' Alene, Idaho, lost one of our own, Sergeant Greg Moore, in May of 2015. The tragic and violent death of Sergeant Moore deeply saddened our community and left us with one less officer committed to the service of others, and a young family without a father and husband. Our community is rising together to create a place that will allow residents and visitors to remember and meditate on the sacrifices made by our men and women in blue. -To honor Greg and all fallen officers across the nation, we intend to construct a Thin Blue Line Memorial River in McEuen Park. The waterscape will include three waterfalls "Respect," "Honor," and "Remember" with pools of water, and 18 benches nearby for people to relax and reflect. The waterway will be light by blue LED lights in the evening. We need your help to create this lasting memorial: In honor of Sergeant Moore's "K27" unit number, please donate $27.00- $270.00, or a larger gift if you wish to do so. Each of the 18 benches can also be donated for $10,000 each, and your name or business sponsorship will be noted on the bench, along with a memorial statement of your choice reflecting our appreciation of our law enforcement officers. For more information, contact Mayor Steve Widmyer at 208.661.4069.
Comments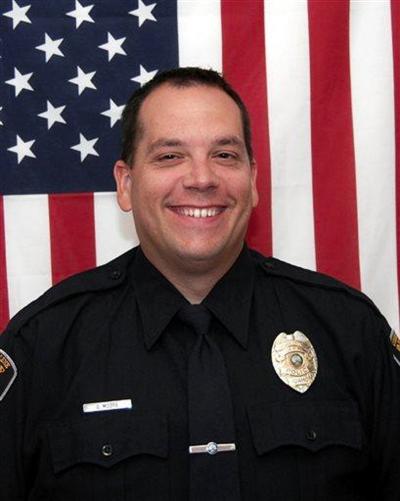 Sergeant Greg Moore Memorial Fund – K27 Forever
Campaign Ended
Our Supporters
$500
Pat & Sharon Wardian
$500
Donald Sausser
$500
John Barlow
$405
Fort Ground Grill
$270
Mike Crapo
$270
John and Diane Brumley
$270
Chip & Tallie Althen
$270
Troy and Jan Tymesen
$270
Bruce Miewald
$270
Dan and Cory English
$270
Susan & Jeff Crowe
$270
Rich Wells Ginno Construction Co.
$270
Kris Periera Ginno Construction Co.
$270
Brian Longwell Ginno Construction Co.
$216
Lee and Kristi White
$150
Roberta Thompson
$150
David Madison
$150
Thumbsup!! LLC
$127
Laura Bonneville
$108
Chris Wagar
$108
Matt, Melissa, Gavin and Cameron Tosi
$100
Kevin and Bobbi Cooke
$100
Anonymous
$100
Blaise Koep
$100
Paul & Julie Amador
$100
Earl Howerton
$100
darrell dlouhy
$100
Angela Rypien
$100
Paul Landers
$100
Sharmon Schmitt
$100
Barbara Bradley
$100
Brian and Melanie Simpson
$100
Frank &. Janet Selzer
$100
Alyssa McLeod
$100
Lee and Carolyn Brainard
$100
Steve Moran
$100
William & Rita Crawford
$100
Anonymous
$54
Jerry & Elizabeth Rose
$54
Richard and Beth Brown
$54
Anonymous
$54
Alex Hamill
$54
Heather Schmitz
$54
Benjamin & Lindsey Widmyer
$54
Mountain Madness Soap Co.
$54
Brandon McCormick
$54
Anonymous
$54
Ursa Major Medical Writing
$54
Mandy Jacques
$54
Brady & Angie Reed
$54
Sam and Nathan Niemeyer
$54
Sharon and Joe Lind
$50
Ray & Marlene Ashmun
$50
Michelle Britton
$50
Janet Savage
$50
Katherine Hennigan
$50
Mike & Mary Friedrich
$50
Jim and Sue Myers
$50
Ray Craft
$50
Eden Irgens
$50
MARGARET MOURNING
$50
Walter and Shaunna Weber
$50
Melissa Yost
$50
Steve Harris
$50
Anonymous
$50
Ray and Raeleen McMillen
$50
Anonymous
$35
David Watson
$30
Will Blacksheepwarrior.com
$27
Erin Lance
$27
Cindy Adrien
$27
Sid and Stacy Smith
$27
Joanne Cantrall
$27
Kathy Harris
$27
James Zipperer
$27
Angela Molina
$27
Anonymous
$27
Ryan St Marie
$27
Anonymous
$27
Erin Davis
$27
Gisela Doerr
$27
Larry Tanzer
$27
Anonymous
$27
Laurie Aikins
$27
Brian Tenney
$27
Matthew Widmyer
$27
Jim Kerns
$27
Mike Holman
$27
Dan Fitzgerald
$27
Anonymous
$27
Sherri Wastweet
$27
Kathleen Schmidt
$27
Jake & Allie Brammer
$27
Mark Keene
$27
Meghan Bertram
$25
Anonymous
$25
Anonymous
$20
Michael Quinn
$5
Ann Knight
$5
Anonymous
$5
Anonymous
$5
Anonymous
$5
Anonymous
$5
Anonymous
$5
Anonymous
$5
Anonymous
$5
Anonymous
$5
Paul Landers
$5
Anonymous